Hey guys and girls! Thanks for stopping by today for this post - the first I've written in quite a long while! If you're on Pinterest, you'll have seen the very popular "life hacks" styled posts (if you don't know what that means - it's essentially a list of easy tricks you never knew about that can make your life easier), and I thought it would be fun to adapt the concept to skating dresses! Because we all know sometimes you just need a quick fix! (psssst! If you
are
a Pinner, come check out
my figure skating board
)
So, without further delay, here are my top 5 figure skating dress life hacks that will make your skating life easier, and may even get you out of a tight spot right before a competition!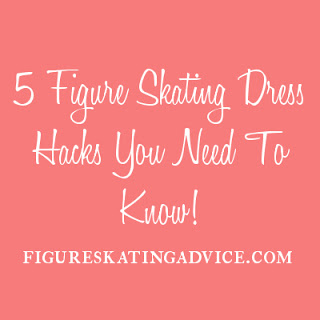 #1 When Glitter Is Falling Off Your Dress...
Do you have a dress that's made of velvet or Tactel which have glitter all over it? Is that glitter falling off? This is a really common complaint in skating, because these fabrics can't hold all the glitter that you saw when the fabric was on the roll, throughout the entire life of the garment. So what to do?
Step one...
spray your dress with appropriately coloured glitter spray! Remember to respect the distance you should spray from (it'll be noted on the can), and to spray onto a test patch first (such as the armpit area) to be sure it doesn't discolour your fabric.
Step two...
when you're happy with the look, finish off with hairspray!
Be sure to do all the spraying in a well ventilated area
, preferably with the garment hanging up. Don't expect no glitter to ever budge again, but this will definitely spritz up a dress pre-comp!
#2 When Chiffon Is Fraying...
Yep, you've heard this before if you're a regular on the blog... tame those frays with clear nail varnish! Right before your event this is the easier way to make sure your chiffon hem line doesn't unravel, seem unsightly, or leave fraying reams of thread on the ice. The better option is to eventually have it re-hemmed, and make sure that the chiffon is properly overlocked (a technique which covers the edge of the skirt in thread to avoid any loose threads from coming loose which is achieved by a special machine called an over-locker or by using an over-locking setting on a sewing machine which has this functionality).
#3 When Your Dress Stinks...
You know, you stuffed it in a dress bag after the last comp/test/gala, and now you've got it out the day before your next event and realise it could do with a freshen up?! No time to wash it, because it's made of heavy velvet and it is crystal encrusted (and that would take like a week to try!)? No worries! Use a soft furnishing freshener spray available at your local supermarket on the problem areas (most likely the arm pits), and hang the dress up in your bathroom. While you're taking any baths and/or showers, the steam in the room will help iron out any creases or wrinkles (e.g. in chiffon skirts) and the odours from your bathing will help to make your dress smell fresh again. You could always even add a few drops of an essential oil you love to a basin of hot water, and hang the dress near by so that the scented steam wasfts towards the dress.
Please note that you should test patch any products you use on your outfits in an un-seen place (arm pit, knickers under the skirt, etc.) and that you should only use products that won't cause you any allergic reactions.
#4 A cuff, or some other apendage, is falling off...
Eeeek! Now this happened to me as I was getting ready for a competition once (I mean, like, I was to go on for the warm up like 20 mins later) - my sassy organza cuff fell off my sleeve! Now back then we ran like crazy to a skater's near-by house, grabbed a sewing kit, and that whole situation pretty much cost me any zen-me-time prior to the competition, because it was a race against the clock to sew the thing back on! So, my advice to you? Always carry thermal tape and an iron to events. You can whip off the dress, and someone else can sort the dress while you worry about your off-ice warm up! If carrying your iron to an event isn't an option because, for example,
you're at an event you travelled by air for, then bring a big ol' box of safety pins. Once you're out there on the ice? No one while ever see them...
#5 Yikes! My child grew and now the skirt is waaaay too short!
You'll be well aware that figure skating dresses can cost a small fortune, especially the competition variety, so what to do when your kid grows out of that $300 dress from the beginning of the season? Revamp it! For just a few dollars (dependent on getting cheap chiffon) you can get a whole other season out of that dress. Have your dressmaker take off the current skirt, and replace it with a new, longer version, and keep the bodice. This also gives you the opportunity to make a new-version of the dress! I had a purple velvet skirt replaced with a white chiffon dance skirt, and it changed the whole look for a total of about $10! Whoopee!!
Well I hope these 5 tips for dealing with dress issues were helpful to you! If you have any thoughts or advice for others readers, you know what to do! (*cough* leave a comment *cough*).
Until next time,
keep looking fabulous
!
XOXO
♥ Leaving a comment below
♥ "Liking" this page on Facebook for all to see: