{
EDIT:
New content added to this post, including how to embellish soakers, and ideas on how to use them!}
Soakers are an essential part of any skaters' sports bag, and a really easy little item to whip up with a little stray fabric and 30 mins spare time. Make them as slim or as full as you want, using whatever type of fabric you'd like. Use up odd ends or buy a far-out fabric to make soakers that'll seriously brighten up your bag!
To the sewing machine
it is then!
*superman arms towards machine*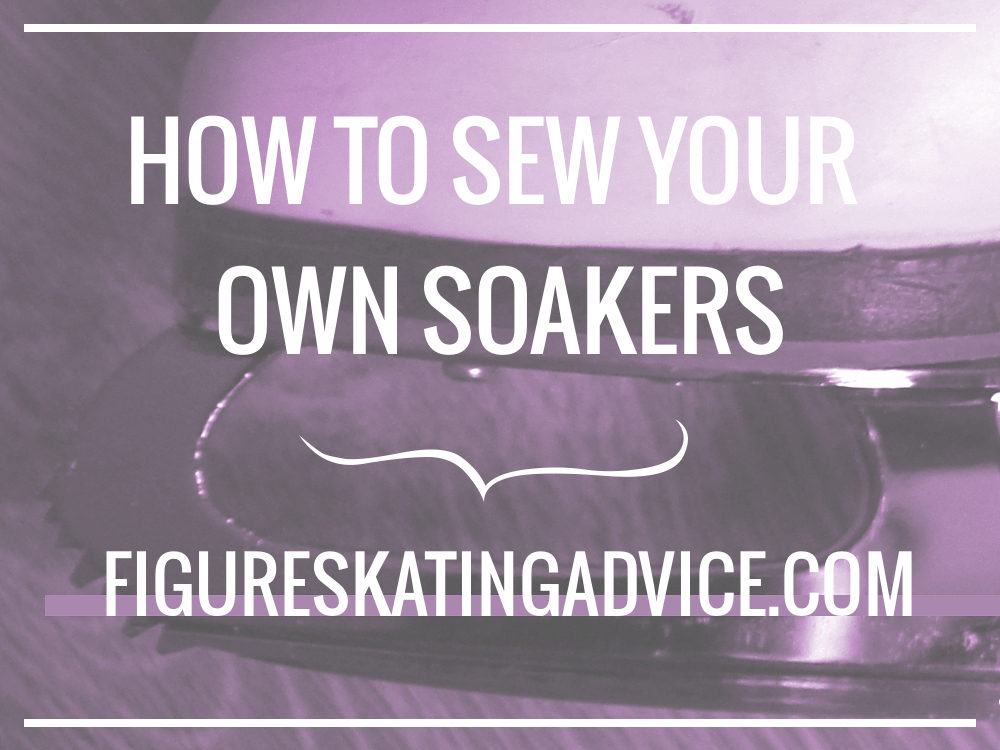 These little gems are really easy to make and double as a very nice Xmas gift for your coach and/or skating entourage. You could even go to town and embellish them with stones or beads, stuck on or hand-sewn. If you decide to do some fancy hand embellishment, remember that the key to a perfect pattern is to embellish the fabric while it's flat, prior to sewing up your soakers.
♥
Ingredients
♥
- Towelling fabric (yes, the stuff towels are made of, nice and absorbent. This is for the inside)
- Any fabric you like (this is for the outside so use something you find visually pleasing)
- Elastic (can be 1 cm or 5 cm wide, just use whatever you have)
- Sewing machine and thread (use matching thread for invisible seams, or mix it up and contrast!)
1) Measure the length (from toe-pick to back end) and depth (from the sole of the boot to the part that touches the ice) of your blade, see illustration below. Lay your fabric out for cutting. Double the depth so that you have enough to cover both sides, and add another 2". This allows for a 1" gutter on either side of the blade through which the elastic will be passed. Cut your fabric by multiplying the length by 1.5 times the length of your blade. This will allow for the elastic to pull in the fabric and give a nice ruched finish.
Example: If my blade is 10" long, and 2" deep, I will cut;
2) Once you have cut 2 pieces as discussed above, in both the outer fabric and the towelling fabric, you will need to sew 1 piece of outer to 1 piece of towelling. Go at it with your machine and a nice zig-zag stitch.
3) Now fold over your elastic gutter, towelling fabric towards the inside. Stitch along the length of the fabric. You now have 2 "tunnels" at the edges of your rectangle of fabric into which the elastic will go later on.
4) Now, fold them in half lengthways so that the towelling is on the outside (this way the seams we are going to sew up will be turn inwards upon completion revealing a pretty soaker!). Sew up the ends but leave the "elastic tunnels" open (you will finish these by hand once the elastic have been inserted and sewn up).
5)
You should now have a soaker-resembling shape of fabric, albeit a little long for your blade.
At this point I'd like to point out that if you plan on applying any embellishment which is a defined shape (as opposed to a random scattering of beads/crystals, etc..) now it the time to do so, as you can work with the flat fabric and create your desired shape before the materials become bunched up under the force of the elastic.
When you're ready, here's how to add in your elastic. Generally you should try and get an elastic which has an appropriate width for your gutter, but anything will do and I appreciate the need for thriftiness! Use a safety pin (which you stick through the end of the elastic) to guide it through the gutters you made earlier. Adjust the elastic until it pulls the soaker into the original blade length (remember we cut the fabric one and a half times the length of the blade? It's now being pulled back to blade length - creating a yummy ruffle and loads of super padding for your precious blades). Sew up the ends of the elastic together with your machine. Use the backstitch option and go back and forwards a few times to ensure security.
6) Turn your soaker right side out (and admire your nifty handiwork)! Now all that's left to do is tuck in your elastic ends and sew up the ends of the gutters. This should take you 5-10 mins by hand.


More embellishment can be added at this time, such as a random scattering of hand-sewn beads or crystals (the
Swarovski bicones
are my absolute favourites and are perfect for no-glue hand-sewing projects like these little soakers!).
♥
Finished Product
♥
Here is my finished product
(admittedly this photo has been taken a few years after the DIY... so they have seen plenty rink action and bag movement!):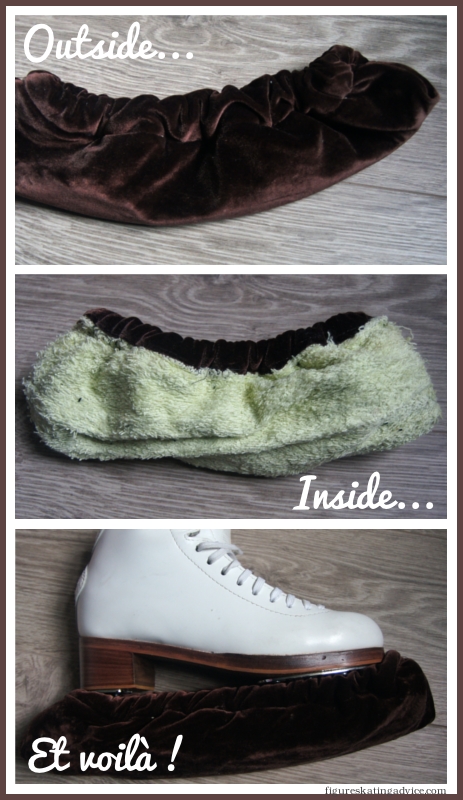 ♥
Uses For Your DIY Soakers
♥
The possibilities for this little hand crafting project are endless! Here are just a few ideas of what you can do with your new found talent:
♥
gift them to your coach
♥
gift them to other skaters
♥
create soakers that match this seasons skating dresses!
♥
add Christmas themed decorations to red velvet soakers to inject some holiday cheer in to the rink!
♥
make a luxury pair of soakers with plush velvets and add a monogram in Swarovski crystals
♥
use fabric odds and ends or bargain bin finds and make batches to sell at sales or fundraisers
.... and so much more besides!
Until next time,
get creative with your sewing machine
!
XOXO


♥ Visiting & Liking my Facebook page
♥ Tweeting to me: @skating_howto
♥ "Liking" this page on Facebook for all to see: