I salute you! Making your own skating outfit is a hard task, yes. Especially if you have never done it before. However, it is terribly rewarding when the final garment comes together, and I just cannot describe the sheer pride you will feel when someone compliments your outfit at your competition and woos "ohh, who made that for you?".
So let's go my pretties,
to the sewing machine
!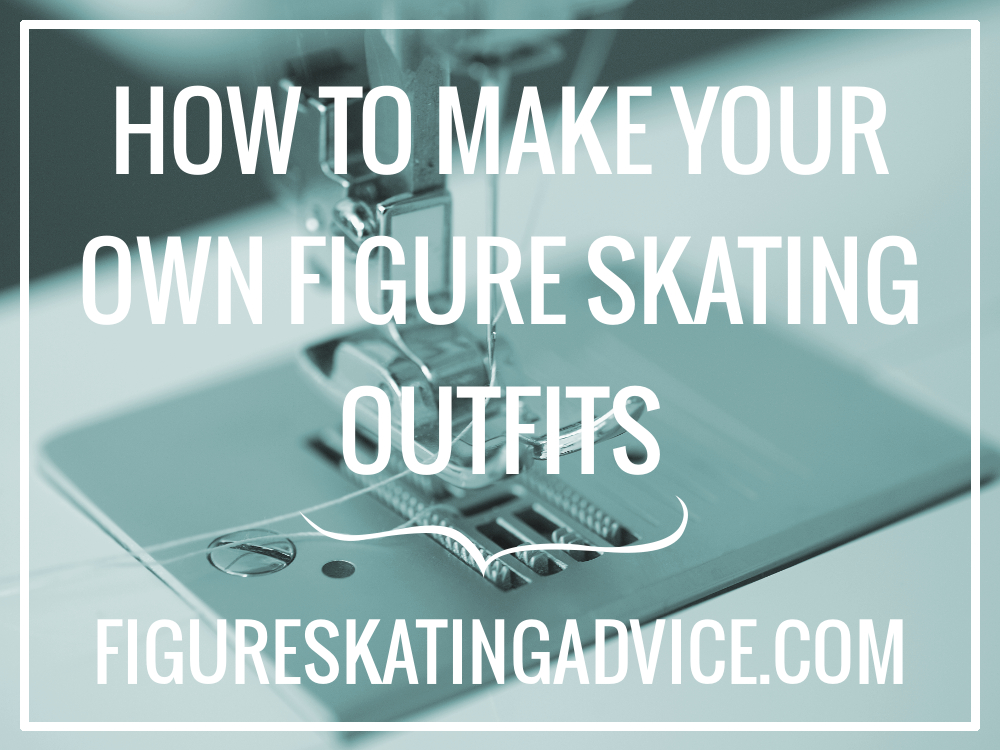 Here's what you need to know. You can do this free style, and design your own outfit from scratch, or you can use a pattern. I recommend the use of a pattern for anyone who isn't
very
much at ease with pattern drafting and sewing techniques. I still use patterns and simply adapt small parts of them to get the shape I am looking for (trust me it may seem daunting now, but once you have made your first basic outfit adapting a neckline or skirt length will start to come quite naturally).
So where do I get a pattern, you ask? The amount of sewing pattern manufacturers who supply figure skating dress patterns is pretty weak, but they do exist and they generally are simple silhouettes which make them easy to adapt once you get confident enough. Gents outfits are even rarer and I only know of one company which make male figure skating outfit sewing patterns. That said, a mans pant or legging could be drafted from a pattern of pretty much any style, just make sure that the fabric you are using is stretchy enough. Men's shirts can be chosen right out of any pattern makers catalogue by browsing the "men's shirts" section, and no particular stretch-rule need be applied unless you are going for a tight design.
Jalie is a Canadian company providing an extensive range of skating patterns, you can take a look at the "figure skating" page of their website
by clicking here
. They also provide patterns for ballet and gymnastics, among others, which as you can imagine can be easily applied to our sport too.
McCalls do a child's fairy dress pattern which sports a skating girl on the packaging,
click here to see this pattern if you're stitching for a little one
.
Kwik Sew have a large selection of simple styles, ranging from practice wear, hankerchief skirts for little ones (and not so little if that's what you fancy!) to slinky bare-backs and a-line nightie styles.
Click here to see the Kwik Sew
page at
SewingPatterns.Com
, just click on the "Figure Skating" tab in the left-hand menu to view all their styles.
Once you've found a style that you like (and that you feel comfortable sewing), you need to choose your fabric. You can either buy this from local suppliers or go online. I have bought fabric on eBay many a time and am yet to be disappointed! Look for the seal of professionalism - the "Power Seller" badge, and group buy to save you money on shipping costs. There are also many other great online stores but they are quite region/country dependant so the best thing to do is for you to type "fabric store" into Google and give yourself 30 mins of "me time" to browse and bookmark as you go. Material is sold by the yard or meter (this is the length), and has a fixed width (the width of the roll on which the material is mounted). So when you ask for 3 meters of a fabric which is 140 cm wide, you will get 3(L) x 1.40(W) meters of your desired fabric.
You need to concentrate on the elasticity of the fabric too. As you bend, stretch and shimmy (oo-er!) you need your outfit to fit and flow, not constrict and cut off blood circulation! So go for a 4-way stretch fabric. This is also sometimes called 2-way stretch, and it basically means that the fabric stretches whether you pull it up-and-down or left-to-right. The supplier will usually tell you what amount of elastane is present in the fabric, but don't worry too much about this as long as it is stretchy under-finger. I once used a pattern which stipulated the use of a fabric with minimum 70% elastane, but used a fabric with only 7% as the fabric was a cheap piece I picked up. The dress turned out a hot success and is comfortable for everyday practice wear! Be savvy and trust yourself.
Thread needs to be a good all-purpose thread and more importantly you should stitch with a zig-zag stitch on your machine. This way as the fabric gets stretched out the thread gives, and then goes back to its usual place (imagine pulling your dress on over your hips, the skirt-at-waist seam needs to stretch to get over your hips and then resume its normal size once sat on your waist). Use a "stretch" needle in your machine. This saves the stretchy fabric from "running away" under your machines foot, and will prevent puckering and jumpy seams. You can get "stretch" needles (sometimes called "ballpoint" needles) from any good haberdasher, and again why not go online for a bargain if you are a confident online shopper.
Follow the instructions on the sewing pattern and take plenty time cutting out your fabric. I do realise that a cutting mat and a rotary cutter are investments but if you are serious about crafts in general, and now skating outfits too(!!) then these tools will make your life SO MUCH easier! I regret having waited so long to buy mine, and now couldn't cut fabric without them. I purchased both of them on eBay and would do so again without hesitation. Your rotary cutter blade will need replacing now and again (depending on how much you use it) but your cutting mat will self-heal allowing for long-term usage.
Once you've got a finished garment, you'll probably want to embellish it. This is a really fun part and you can go as mad as you want! I would recommend having a good rest between the moment you finish sewing and the moment you start thinking about adornment - you need a fresh mind and a motivated attitude towards it in order to think up something really special, and in my experience I had neither of those having spent 7 hours at the machine! A hot bath and a glass of wine is a nice way to reward yourself for your efforts, but that's just a little suggestion!
Buy your sequins, crystals, and/or beads from either your local supplier or again, go online. You'll find you can get better prices and bigger quantities online and this can be very helpful for skating costumes as they do need a lot of adornment. What size, colour, texture and type of "bead" (I use the word bead loosely to describe any type of adornment) you choose is entirely up to you. Think it out and draw a few sketches to give yourself an idea of what your fantastic garment will look like once you've gone to work making it sparkle-tastic!
Most of all have fun, and enjoy the utter satisfaction that will pump through your body when you step out onto the ice wearing YOUR creation!
Don't forget to check out my related posts below for tons more info on all things related to making your very own skating outfit!
Until next time,
keep on sewing
!
XOXO
PHOTO ATTRIBUTION


If this content was useful to you get in touch by:
♥ Leaving a comment below
♥ Tweeting to me:
@skating_howto
♥ "Like" this post on Facebook so your friends can see: