Hi there guys and gals. Today I want to write a short post, to show you some awesome sparkle I picked up a couple of weeks ago, and that would be perfect for skating events! Admittedly I have no skating-use for things that twinkles any-more, but I am still quite obsessed with anything Swarovski. Who says you can't wear full on bling to school, right?!
In terms of actually buying the same item, this post is going to be more useful to UK readers, but the idea of the item I bought is easily DIY'ed, for extra rink-side sparkle!
I picked up this gorgeous crystalised cuff in New Look, for the tidy sum of £4.99! It is a fake leather fabric which has been cut into multiple strips through the middle, and then heavily stoned with AB crystals (I'm not convinced they are Swarovski, but if they are not, they are still a high quality crystal because they have that "fire" that only good quality rhinestones do). The cuff is attached via 2 popper-buttons of which there are two sets, so it fits a variety of wrist sizes.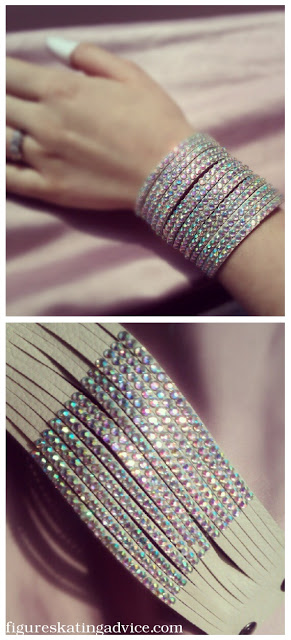 What made it even better was that at the time, they had a buy-one-get-one-free across their entire jewellery and accessories range! I picked up a cute hair clip at the same time, and got one item completely free (they were both £4.99 - I take great pleasure in maximising such buy-one-get-one-free offers!).
This item would be great if you were doing a rock-n-roll program, and I think they'd be a really neat accessory for synchronised teams: the kind of detail that pulls the whole team's visual together for under £5 each! Awesome!
No New Look In Your Town/Country? No Worries!
All you need are a few supplies are a little creative imagination and you too can have a blinged-out cuff to go with your next skating outfit.
When making your own, you don't have to go with a leather fabric, or cut the strands either. The level of detail you want to do into is entirely up to you. So let's go through the steps you'd need to make one of these for yourself:
♥
Tutorial Steps
♥
1:
Measure your wrist, and the width you'd like the cuff to be.
2:
Add your seam allowances (I'd usually ad about 1 cm). E.g.: if the width of your wrist is 12 cm, measure 14 cm of fabric: 1cm seam allowance at each end.
3:
Cut out 2 pieces of fabric of the correct dimensions.
4:
Lay them right side together, and sew around them all the way bar one end. If you want to make your cuff stiff, buy some interfacing to put on one side of the 2 pieces of fabric. Make sure you don't sit it in the middle, or else when you turn the piece right-side-out, it'll be in the middle. You can buy fusable interfacing that will fuse to your fabric upon ironing, which is great and takes the hassle out of having another extra layer to contend with while sewing.
5:
Turn right-side-out, and sew the last end free-hand, tucking in the seam for a smooth finish.
6:
Sew on your popper buttons or hooks-and-eyes by hand, making sure to use doubled up thread for a secure finish.
7:
Now your cuff is done, and ready for embellishment!
8:
Take the crystals of your choice, and attach them
as per one of the methods explained in this blog post
on embellishment. The fastest way to go, in my opinion, is by using a Kandi Kane rhinestone applicator tool (I bought mine on eBay for less than $20, and it's great!).
9:
You are now ready to sparkle and shine out on the ice!!
These would make an awesome present for skating friends, or even non-skaters who love sparkle and glitz! The same method can be applied to the neck to make a crystal-covered choker necklace, or the upper arm to make sparkle-tastic arm bands (perfect to go with a Charleston dress!).
We're all looking for crafty inexpensive gifts come this time of year, so I hope this post has helped you get in the Christmas spirit, and inspired you to bring a little extra sparkle into your life!
Until next time, sparkle on!
XOXO


♥ Leaving a comment below
♥ "Liking" this page on Facebook for all to see: