This afternoon I just wanted to write a teensy little short post (and have an excuse to take a break from revision - first exam tomorrow, eek!) to tell you about the skating boards that I recently set up over on my Pinterest account!
I don't know how many of you currently use Pinterest, but even if you're not signed up nothing is stopping you from taking a look, and hopefully, being inspired by some of the things you'll find there!
I must admit that so far my figure skating boards are seriously lacking in content (especially in comparison to my other boards... perhaps you'll enjoy browsing those too!) but it's surprisingly difficult, believe it or not, to find good quality skating content expressed through images online!
In any case, come and have a wee wander over? Here are all the relevant links:
... And a sneaky little peaky: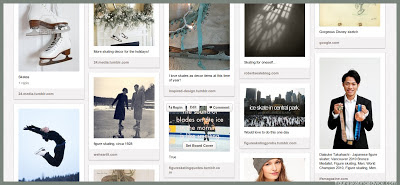 All credit to the original photographers. No copyright infringement is intended. If you would like an image credited or removed, please do not hesitate to contact me.
I have also added Pinterest tabs to the
FigureSkatingAdvice Facebook page
, so you can catch up on all the musings
and
get your dose on Pinterest at the same page! If you enjoy the blog your Facebook-based support would be much appreciated!
Don't forget to leave me a comment, or get in touch via Facebook or Twitter if you have Pinterest! I always love to peruse other Pinners boards, especially if there is anything skating-related to be seen!
So until next time, when I can write an actual post (I have a few ideas brewing...), keep skating and smiling dear readers!
XOXO

♥ Leaving a comment below
♥ "Liking" this page on Facebook for all to see: