Perhaps you've arrived at this page because you are already in the early stages of starting skating, or maybe you've come to my blog today (having rode in on the Google Search wave) because you've been inspired by all the Olympic figure skating events up until now. If this is you, then all I can say is, I'm not surprised! The Olympic Winter Games in Sochi have been fantastic up until now, with
sensational
performances in all 3 categories which have taken place so far.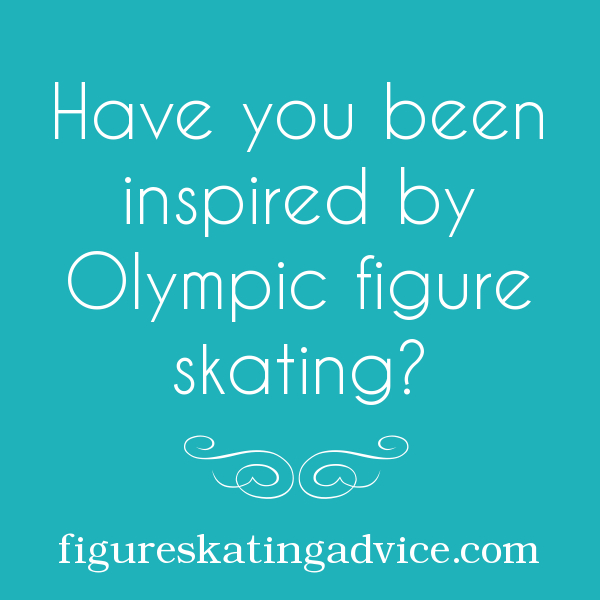 With the ladies event still to come in the next few days, you know there's going to be more sparks flying thanks to the return of reigning Olympic champion Yuna Kim of Korea, the triple axel from Mao Asada of Japan, and the athletic grace of America's sweetheart Ashley Wagner, just to name a few.
If like me, you saw Meryl White & Charlie Davis (USA) glide to gold last night in the free dance, or Tessa Virtue & Scott Moir (Canada, Olympic champions in 2010) give it all their heart and soul to clinch the silver, and felt absolutely
compelled
to strap on some skates and run to your nearest ice rink then I've got good news for you! Skating needs you! Skating needs new recruits with fire in their hearts and a passion for their dreams. And no, you don't need to be a 6 year old with the ultimate goal of Olympic gold: you might be an adult who fancies donning a glittering dress, or a teenager who thinks its too late to "make it in skating" (psst! Guess what, there are other goals than Olympic medals which can be very satisfying and allow you to enjoy a long and happy skating life). But whoever you are, if you're reading this, then chances are
you've been inspired by Olympic figure skating in Sochi and want to try it out for yourself!
I salute you!
Right now you're probably feeling excited about the prospect of getting on that gleaming sheet of ice, and feeling the wind whip through your hair as your favourite piece of music plays in the background. So how do you make that dream a reality? That's where FigureSkatingAdvice comes in! This entire blog is written for people just like you, who are ready to embark on a figure skating journey (as well as for veteran skaters, and generally anyone looking for skating-related tips and tricks!), so hopefully you'll find lots of information that will serve you well. I've put my heart into this blog in the hope that it will aid you in your skating life, so don't hesitate for a minute to leave a comment or get in touch via social media to tell me what you'd like to read about.
Here I've compiled a few key steps to take if you're thinking about start out in figure skating (including the beautiful sport of ice dance, which I thoroughly recommend you don't skip over in favour of the jumps, because it is every bit as athletic and technical, and may suit your skating style/skill more - try a bit of everything and figure it out as you go!). You'll also find a list of posts I've written which are appropriate for this memorable occasion - you're starting figure skating! So without further ado, here are some simple steps to get you started in figure skating:
Step #1:
Find your local ice rink
Step #2: Visit or call your rink to ask about beginner classes and courses (often times a course of a fixed number of weeks for absolute beginners are offered, allowing you to move up classes earning badges and learning new skills each week! Super exciting and motivating!)
Step #3: Visit your national skating association/governing body website, and/or give them a call to ask about how to get into skating (chances are they'll tell you about the beginner courses they endorse, and give you tips about how to choose a rink)
Step #4: Sign up! Beginner classes usually cost much less than 1-to-1 lessons, and will give you a great idea of what it's like to be out on that ice
Step #5: Wear suitable clothing while you attend your first class! (psst! Congratulations, you're now a figure skater!)
Here are some posts from this blog that I hope will help you start out in the skating world:






Tell me if there is anything you want to know and I will get back to you ASAP!
Until next time, get those skates on!
Gigi
XOXO
P.s. The awesome snowflakes I used in the above images are free and courtesy of
Obsidian Dawn
♥ Leave a comment below
♥ Tweet me:
@skating_howto
♥ Like this page on Facebook to share it with your friends: