Even if you're a regular FigureSkatingAdvice reader, you probably don't know that I've been a knitting fan for a long time. Due to the hand injuries I've been suffering these past 3 years, I've not done any knitting (or other crafts, *sniff sniff*) at all, but over the past few months I've been able to pick up the needles and (slowly) enjoy making some little garments and accessories. It's so rewarding! Obviously this being me, the thought eventually crossed my mind... "what could you knit for the skater in your life?" And voilà, this post was born!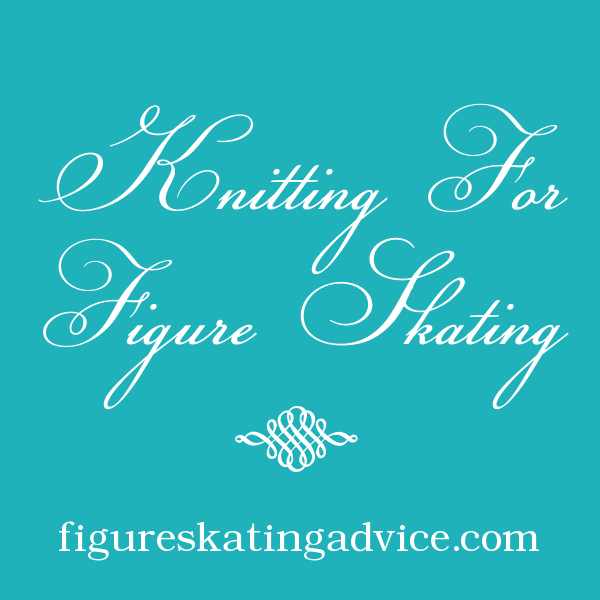 Two of the great things I love about knitting as a craft is that you need very little equipment to be able to make a project (read: minimal financial investment!) and you can whip up an impressive (rink-worthy) project quickly, even if you don't have any knitting experience! Hand-made crafts are the perfect way to make a special gift (yes I'm starting knitting now for Xmas... I can't wait to have a drawer full of goodies for my friends, that I'll be able to hand tag and ship off in envelopes to my various buddies around the world), but they are also a wonderful way to make something no one else will have. And you know how we all love having something unique in skating!
Another great facet of knitting is that it is light, portable, and the perfect rink-side past-time for when you're waiting through your child's training sessions. Just think, if you knit a little every time you were at the rink... by the end of the year you'd have enough done to kit out the US Olympic team! *chuckles*
I'm not trying to do an "intro to knitting" post here because you'll find much more knowledgeable individuals who have written fab content on knitting-dedicated sites and blogs, but rather here I thought it would be fun to think about items that would be useful in the skating environment. If you're a seasoned yarn crafter, you probably already know about Ravelry, but if not here's the low down: Ravelry is a sort of social media site for knitters and crocheters (is that even a word?!) You have a profile, you can upload your projects, interact on the forums, and best of all... peruse the thousands of
free
knitting and crochet patterns available! Of course there are paying patterns too (just purchased my first yesterday, and the process went really smoothly, with payment via PayPal for that extra peace of mind!) but the free library is already massive. Sign-up is free, so if you are looking for a cute project to make out of yarn I thoroughly suggest you sign up (the forums are wonderfully handy too, if you get stuck with your project, as I often do...).
If you "Like" the
FigureSkatingAdvice Facebook page
, you may have seen
this video
I posted a week or so a go of a
wonderful
yarn I'm working with at the moment. It is a fine ivory wool which is speckled with holographic gold sequins... need I say more, ladies? *grins* I'm constructing a ballet-wrap style cardigan from this yarn for... myself. Yup, to me, from me. Sometimes you have to gift something to yourself, and this is a double whammy for me because I get so much pleasure from the knitting, and then I get to
wear
a super sparkly garment! And y'all know how much of a glitter-lover I am (and if you don't, well, let's just say I wore a tiara around central London the other day, just because I could). I'll be sure to post a photo of the finished garment when it's done, so come and Like the
FB page
if you want to see how it turns out! Here's a picture I took of one of the front panels, which is all done and dusted now (I've got
the sleeves and
ties to do yet):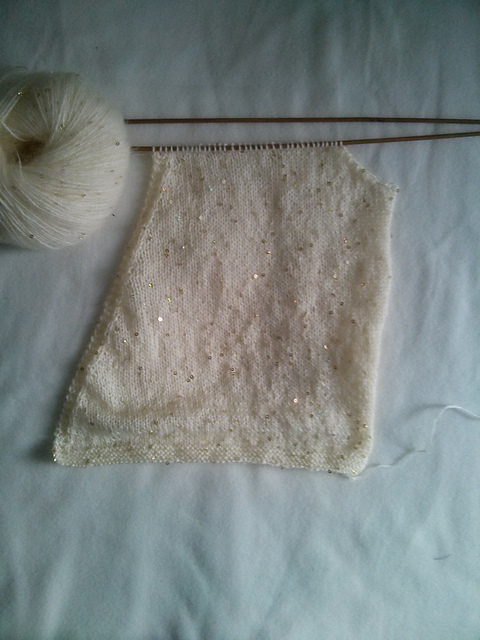 Items I've come across so far that I think would be fabulous for the skater in your life (follow my lead and make something for
yourself
, if the skater in your life is YOU!) include:
♥ Fingerless gloves (perfect for being able to tie laces)
♥ Mittens (perfect for practising moves in the field when precise finger placement isn't important like it is when doing a program run-through)
♥ Ear-warmers and headbands (keeps unruly hair out your eyes too!)
♥ Leg warmers (guard against muscle injuries by staying toasty)
♥ Ballet wrap cardigans (use a fancy yarn, like the one I'm using, to create a competition-warmup-worthy garment)
♥ Shawls and stoles for coach (perfect for Xmas and birthday gifts, and super easy to make because virtually no knowledge required!)
♥ Water bottle covers (never grab the wrong bottle at the barrier again!)
♥ Individual boot bags (cushion those babies while they're in your skate bag during transit)
♥ Anything with cashmere (warm, luxurious, SO soft, need I go on?)
Don't forget that any and all of these items can then be embellished however you like (if you're anything like me, you'll crack open the box of Swarovskis). The selection of yarns available to knitters is huge these days, and "superwash" yarns allow you to be able to launder the garments made from them with ease of mind. These yarns are thus perfect for knitting cardigans, wraps, jumpers, and other items which may get sweaty (and stinky!), and items such as leg warmers and boot bags, which can get grimy from traipsing through the black sludge on the rubber floors of ice rinks (I don't think I know one skater who doesn't have at least 3 pairs of tights that have been permanently tainted a dodgy shade of greyish-black by that sludge!)

Remember to look out for yarns that have wool content for extra warmth too. 100% will be harder to wash and can shrink so if you want to knit a washable piece I'd recommend using a yarn which has both acrylic and wool. Luxurious wools that you'll find on their own, or blended into synthetic fibres include: alpaca, cashmere, merino, mohair, and llama hair. Silk is another option and gives the yarn a sheen finish. You can also find 100% bamboo yarns too, if the person you're knitting for is into plants and all things green!

I'd love to hear if you're a crafter! Do you knit, and have you done anything skating related?! Get in touch in a comment or on social media! I'd love to share any creations you have to show off on the Facebook page!

Until next time, get those needles out!
Gigi
XOXO


♥ Leave a comment below
♥ Like this page on Facebook to share it with your friends