As you will know by now if you are a regular reader of FigureSkatingAdvice, I love to get feedback from my readers and ideas for new posts. Today's post idea came from Lauren, who asked me if I could write about the different fabrics that can be used in the construction of figure skating costumes. I've written quite extensively about skating apparel over the past year, and Lauren drew my attention to the fact that although I've covered things like making soakers for your blades, how to choose and attach rhinestones and sequins, and how to start out making your own skating costumes, I hadn't dedicated any one post to skating fabrics. Let the fun begin!
Even if you haven't been in the sport very long, you'll know just from what you've seen on the television that fabrics used to make dresses, trousers, and shirts in skating come under a lot of pressure. Skaters expect a lot from their fabrics! They must be beautiful (obviously!), comfortable (oh dear, how I remember those uncomfortable few...), stretchy, insulating, durable, washable, and strong. That's all, huh?! So how to navigate the fabric store when you're venturing out into the WONDERFUL (I cannot emphasise that enough) world of making your own skating attire? That's what we'll discuss today.
If you are just starting to caress the idea of making skating clothing yourself, as opposed to having someone do it for you, or buying items off the rail, then you'll need to practice. I made a couple of practice dresses out of cheap fabrics before I plunged into a competition dress, and I'll post some pictures of these once our things come out of storage and we move into our new appartment (which I'm still looking for currently... come Like the FigureSkatingAdvice Facebook page to follow skating as well as a bit of non-skating news from my life, if you should feel so inclined). For trial runs of your outfit, you'll want to make a garment that you can try on, skate in, feel comfortable in, but that you can mess up and not break the bank. You'll want a cheaper fabric. This is the start of your journey (and it's a fun one, believe me!) So now let's imagine that you've found a pattern you like.
"So where do I get a pattern, you ask? The amount of sewing pattern manufacturers who supply figure skating dress patterns is pretty weak, but they do exist and they generally are simple silhouettes which make them easy to adapt once you get confident enough."
The above excerpt is from my popular post "
How To Make Your Own Figure Skating Outfit
", which is worth a read too if you're dipping your toe into the world of DIY skating attire.
~ Getting A Feel For Fabrics ~
Once you've found your pattern, it's off to the fabric store. But not necessarily to
buy
fabric. Right now you need to get familiar with the properties you need in a fabric in order to make the best decisions based on your aesthetic and budgetary criteria. For my first attempt at a halter neck practice dress, I visited the local fabric shop, got inspiration and a feel for fabrics, and then bought some similar cloth online for around £2.50/metre (approx. $4/yard). Although ultimately I would prefer to support my local fabric store because they offer something the internet can not (going and
feeling
fabrics, discussing the project with knowledgeable staff, etc.) I used the World Wide Web first time 'round because I knew I'd be making mistakes and those would cost me precious $$$. If you are lucky enough to live in a big city with multiple fabric shops, you might find cheap fabrics that fit your needs without turning to your computer. This wasn't the case for me at that time, but now I've moved to the capital I could probably find something that would fit the bill should I ever want to sew for skating again.
So what are you looking for when you get to the fabric shop?
#1 Stretch
The fabric needs to stretch to fit the contours of the body snuggly and to yield under the different pressures put upon it when the body moves and bends on ice. Imagine a layback spin performed in a rigid fabric - something would give, a seam would split. Similarly, imagine lifting an arm and stretching it over your head, only for a stretch-less fabric to rip at the under-arm seam. Nightmare.
So
your fabric needs stretch, but that's not all. Your fabric needs to stretch both ways (lengthwise, and crosswise). This is called 4-way stretch. Stretch fabrics can either be 2-way or 4-way stretch. 2-way stretch materials will stretch across the piece, usually from selvedge to selvedge (often written "selvage" in US English, so use that spelling if you are in the USA and are searching online for more success), that is, from left to right as the material comes off the roll. 4-way stretch fabrics will stretch both from left-to-right, and top-to-bottom, meaning the material will stretch whichever way you grab it. These fabrics offer the best in stretchability and comfort for skating outfits. Unfortunately, once you've narrowed down the fabric store to "stretchy", and then to "4-way stretch" you'll have seriously narrowed your choice range, but don't worry, in large stores or online shops you'll still have plenty choice.
OK, that was stretch, now what?
#2 Aesthetics
Obviously, you want to
like
the look of the fabric you're going to be making into your dress/trousers/shirt. If you're looking for a test fabric to start your DIY skating attire journey, I would suggest avoiding anything which has sequins sewn on to it (sequin-encrusted Spandex does exist, see below, and it's stunning, but it's going to give you extra work and right now you want to get comfortable with the construction of skating garments, not fiddle with details).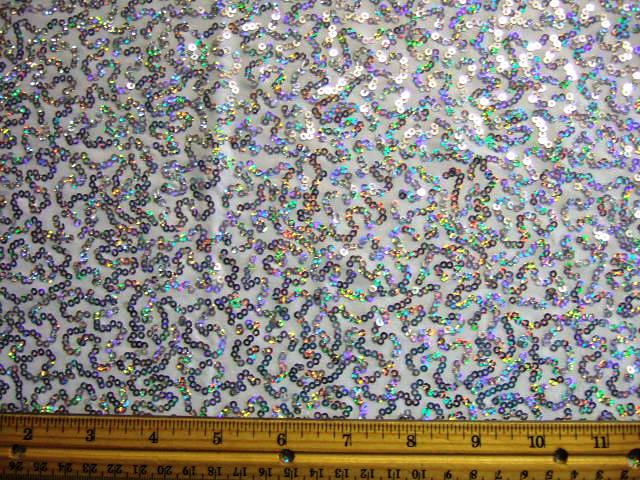 White spandex with silver holo sequins sewn onto it - a good example of a fabric I wouldn't start with
I went for a black jersey fabric with hot pink and orange flower glitter embellishment (just glitter dust stuck onto the fabric in a flower pattern, this, unlike sequins would, did not affect the sewing of the garment because the needle could go right through the glitter design), which cost me very little per metre. One thing I would like to mention is that often times using very shiny materials can cause the garment to look less elegant than using a more matte equivalent - just as you might think twice before buying a skin tight dress in wet-look spandex at the shopping mall, exercising the same caution for the ice rink can be a good idea. Especially when you factor in those arena lights.
All that said of course, you should buy exactly what pleases YOU, do what makes YOU happy, and phooey to the rest. I'm all for individuals living the life they dream of and not blindly following others!
#3 Price
Oh yes, you knew this was coming. Obviously, be sensible when it comes to the budget you want to allocate to your first few practice runs. I know that it might be more inspiring to buy that stunning rare material at $50 a yard, but trust me, when you cut away at it for the umpteenth time to re-try the hem line, or realise you cut into something way too much and now need to go buy more, you'll be happy to be looking at a $4.99 price tag.
#4 Width
This isn't an obvious one, but it ties in with price. The width of the fabric roll changes how much meterage/yardage you'll need to purchase, because the wider the roll is from left to right, the less you'll need to buy lengthwise. Your sewing pattern will tell you how much length to buy depending on the width of your fabric roll.
~ Fabric Types ~
So we've seen that you have the option of buying in store or online, and talked about what to look for when you visit your fabric shop. Now let's discuss fabric types which are appropriate for skating.
We've discerned that you want stretch, and you want a lot of it. You want aesthetically pleasing colour, finish, and potentially pattern, as well as possible embellishment. You will also want to think about the temperature implications of certain fabrics. Let's say your first project will be a practice outfit. If you skate in an abnormally warm rink (yes they do exist, I've just discovered that the beautiful Alexandra Palace ice rink in north London is one such rink - the first I've ever encountered in my 15 years in the sport!) then a full-sleeve thick velvet number might not be the right choice, as this will cause you to become very hot during training. Likewise, if you skate in a proverbial freezer box, then you might want to think twice about making a spaghetti-strapped thin jersey number. Once you're past the practice-session gear, and on to competition fares, then the fabric's insulation properties will become less of a concern, as your focus shifts primarily to the finished look of the outfit.
You can use a multitude of fabric types within one outfit to create different effects, but the easiest thing to do initially would be to use one fabric for everything. If we continue with the faux scenario that you are making a practice dress, you can opt to make the body of the dress, the sleeves (if applicable) and the skirt from the same material. Once you get to grips with your sewing machine, sewing stretch fabrics, pattern reading, and fabric cutting, then moving onto multi-fabric projects will be a breeze.
Let's now explore the types of fabric which can be used for different parents of a skating outfit:
♥ Spandex
Many of you may know this under the name of Lycra, especially the Brits among you. Lycra is the name of a spandex fabric made and marketed by The Dupont Company. sSo basically, all Lycra is spandex, but not all spandex is Lycra. Hope that clears that up, whew, that still confuses me sometimes *cross-eyed face*
This is a basic uber-stretchy fabric. It can be very cheap to buy, and comes in a multitude of colours, and weights. The "heavier" the fabric, the thicker it is (read: the more opaque it is, too).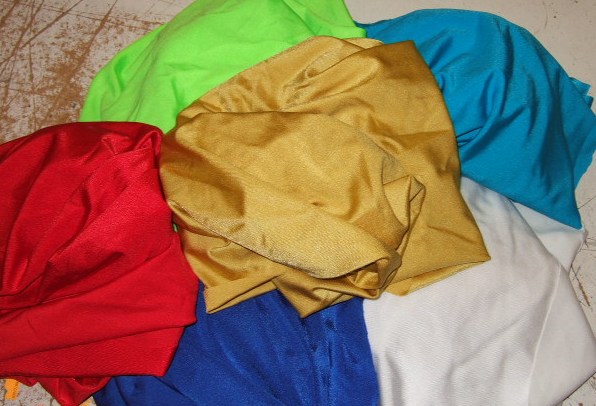 A selection of spandex fabrics from FabricLand
Spandex fabrics are good for the body of an outfit, and can also be used to make the skirt on dresses. Spandex, especially the heavier weighted variety, is often used to make men's skating trousers. In its plain form, this is a basic skating fabric, and was all the rage in the 80s and 90s, but we don't see so much of this on the national or international stage any more. However, spandex can be layered under stretch laces to great effect, and can look beautiful when a colour combination of spandex-lace is chosen well. It should also be noted that spandex fabrics come in a HUGE range of colours, patterns, prints, finishes, and embellishments, see some examples below courtesy of Fabric Land: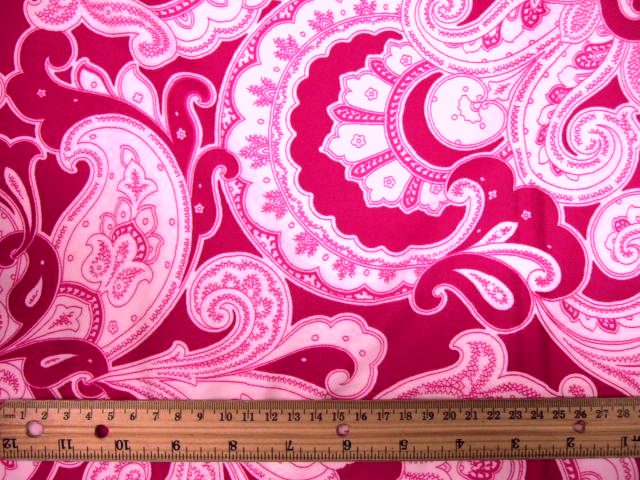 Paisley patterned spandex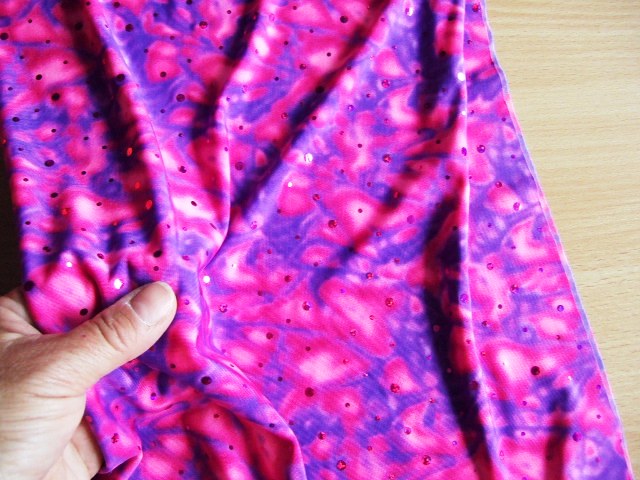 Embellished spandex with tiny droplets of metallic fuschia pink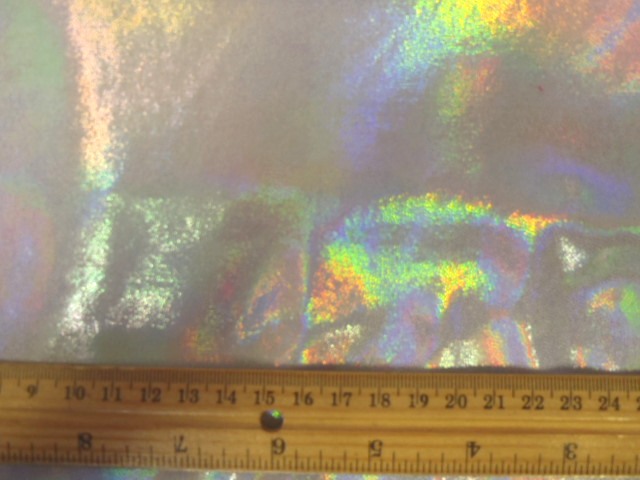 They call this "mirror ball" spandex, and I can see why!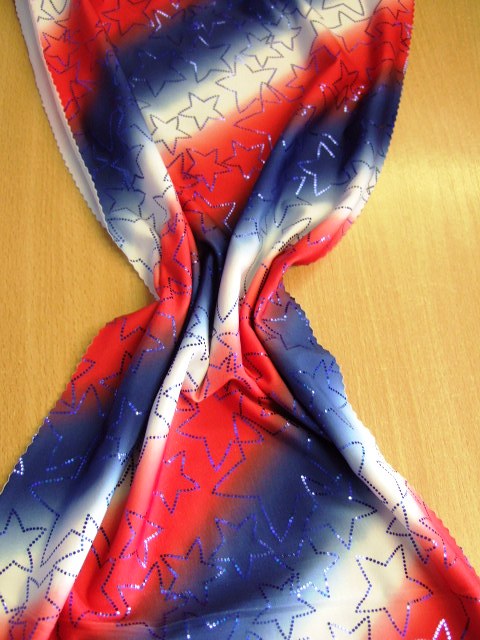 USA all the way!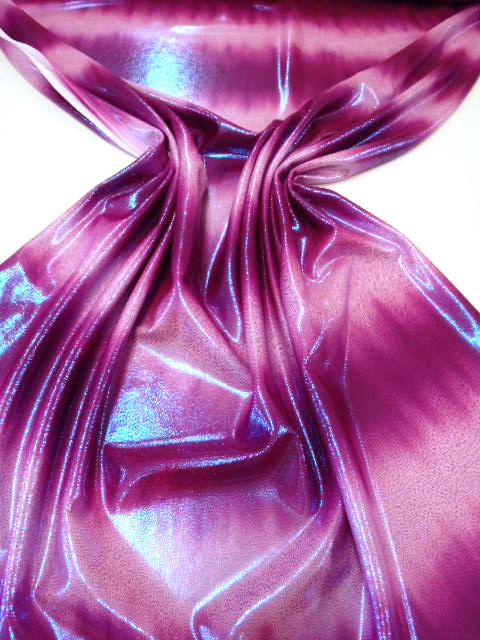 Purple faded wet-look spandex...
♥ Jersey
Stretch jersey is a soft matte alternative to spandex. It can also come in varying weights, with heavier versions feeling most luxurious and being most opaque (think about those jersey leggings women are wearing these days as if they were trousers, and how sometimes you can see their legs through them - that's what you want to avoid out there on the ice!)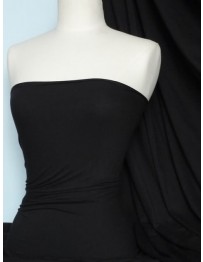 Chic black jersey, one of my faves
This too comes in a plethora of colours, patterns, and finishes.
I personally think black jersey looks so classy. It is also sometimes called "cotton spandex" because the nylon portion of the "fabric recipe" is replaced with cotton, giving it a cotton-elastane composition, rather than the nylon-elastane composition of spandex fabrics which result in that higher shine.
♥ Lace
Ahhhh, lace. Beautiful, gorgeous, romantic lace. This needs to be layered over a base fabric due to its sheer nature. Base fabrics typically used include spandex and jersey, because they are thin, flat materials which will cover the body and provide a coloured (or neutral) base without stealing the lime-light from the lace itself. Flesh coloured spandex or jersey could be used under a black lace to give the optical illusion of the lace being drapped over the skater - a sexy effect which could work well for a tango, for example (however, approach sexy outfits with caution!) I once had a pink spandex-white lace dress with a double-layered white and pink chiffon dance skirt which I wore for all waltz competitions, and it looked the business if I don't mind saying so myself (again, a photo when my dresses come out of storage...)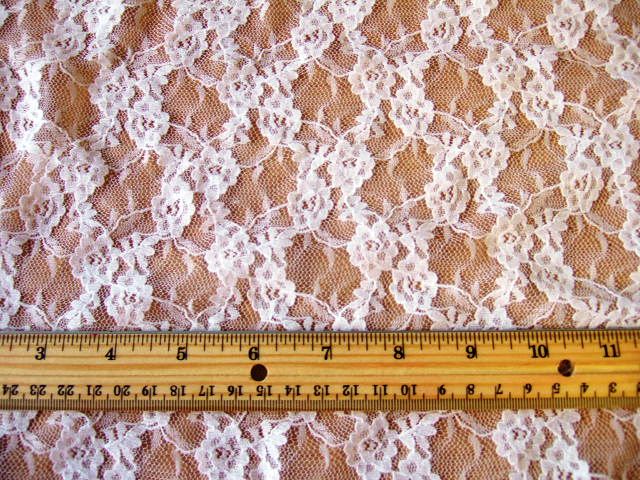 Sweet white lace
Obviously the patterns lace can take are practically endless. Have fun and find one you love, but remember to buy STRETCH lace or you're going to have a problem when it comes time to layer it over your stretch base material!
On a side-note, lace can also be used as appliqués to add accent to the outfit. Check out these beautiful roses which come on the roll but which could be cut into individual flowers and placed down a sleeve, at the hip, or cascading down the bodice...
♥ Chiffon
Chiffon is a stretch-less fabric which is often used for skirts, and sometimes for sleeves. It comes in a huge variety of colours, and if you can't find exactly what you're looking for to match your bodice material, you can easily buy white and dye it as it takes colour very well (I'm now day-dreaming of dip-dying some white chiffon a luscious turquoise hue as I write this... oh dear). Because this chiffon doesn't have any stretch to it, the way in which it must be attached to the bodice to ensure the skater can get the dress over her hips is specific, but beyond the scope of this discussion on fabrics. (If you're a dress-maker and have any tips for this, please do leave a comment as I am still struggling to find the best way to do this despite my theoretically correct method!?) Chiffon is sheer, and usually layered in skirts such that you cannot see the legs and butt-area of the leotard through the fabric. 2, 3, 4, or more layers are often used, with more layers being added to achieve a fuller more flowing effect, such as that seen on the lovely Meryl Davis of the USA in the 2009 World Championships:
It's worth noting that a sister fabric called georgette exists (named for the French dressmaker Georgette de la Plante) - this is also a non-stretch sheer fabric, but contrary to the flat smooth surface of chiffon, this fabric exhibits a crinkled surface and texture. This is due to the way in which the threads within the material are twisted during production, and is a desired effect.
In addition to the basic solid colours that chiffon and georgette come in, one can also find some crazy patterns and beautifully extravagant variations on a theme: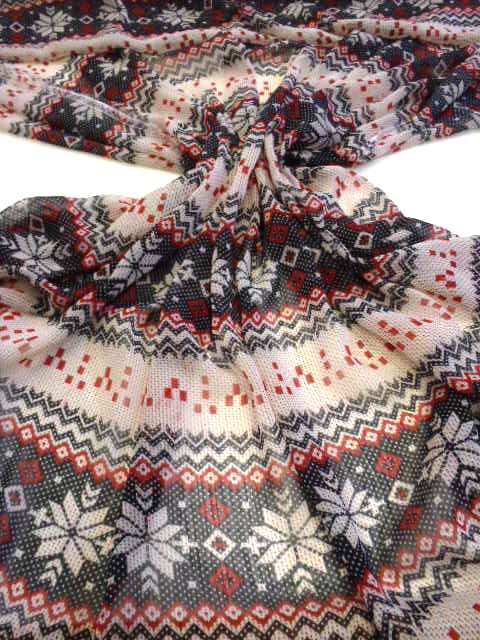 A fabulous Argyll-pattern chiffon would be divine as a practice wrap-around skirt - imagine making Xmas presents from this for your skater, or skating girlfriends?!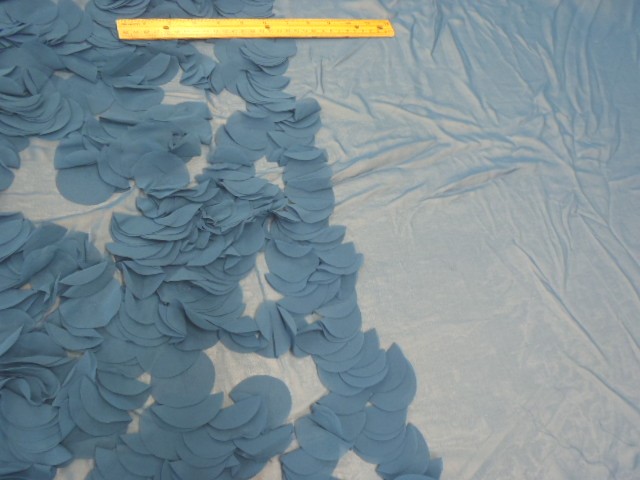 This is a sheer blue georgette with discs of the same fabric sewn to the edging - would look lovely on a skirt and would give it weight and thus flow out on the ice
♥ Tulle
Tulle is a light fabric which, like chiffon, is also stretch-less. Think big puffy wedding dress skirt, or wedding veil. Those are often made of tulle (well, mine were, anyways!). Tulle is stiffer than chiffon and will give more volume in a skirt than will chiffon (think ballerina tutus in Giselle like these). Similarly, dress net also exists which is stiff, stretch-less, and exhibits tiny little "holes" through-out it where there is space between the woven threads of the fabric.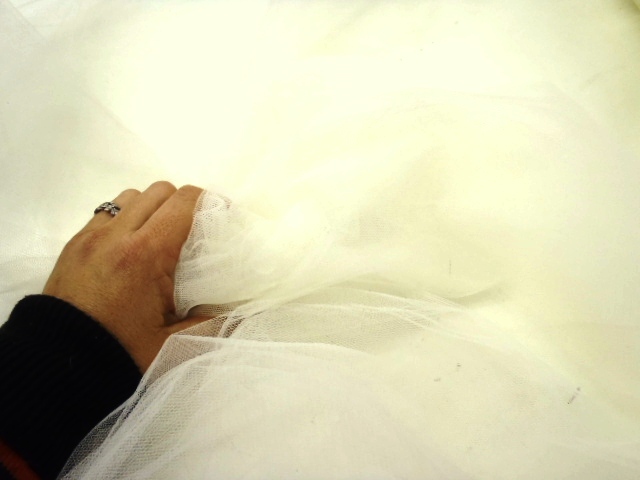 Classic white bridal tulle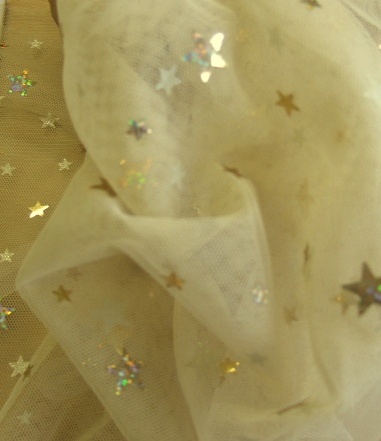 Beautiful champagne-coloured tulle which features holo gold star embellishment
♥ Body Stocking
This is a stretchy fine mesh fabric which is used to create the illusion of flesh in skating costumes without uncovering the skater's skin. This comes in a wide range of colours, so you can also use it for its fine-mesh properties if you don't want to create the illusion of bare skin. Body stocking also comes in sparkle varieties, and I personally used a black-silver sparkle stocking in the collarbone area of a cancan dress to great effect (well, I would say that now, wouldn't I?!) Again, stocking materials come in different weights, from sheer stocking-mesh to thick opaque fabric which will mask any imperfection (often called "power net"). However, as the fabric gets thicker, it will become more noticeable when it wrinkles out on the ice (i.e. when a skater bends over and the fabric bunches), so approach the heavier types with caution, or really get a skin-tight finish to avoid rolls of nude-coloured fabric which look unsightly.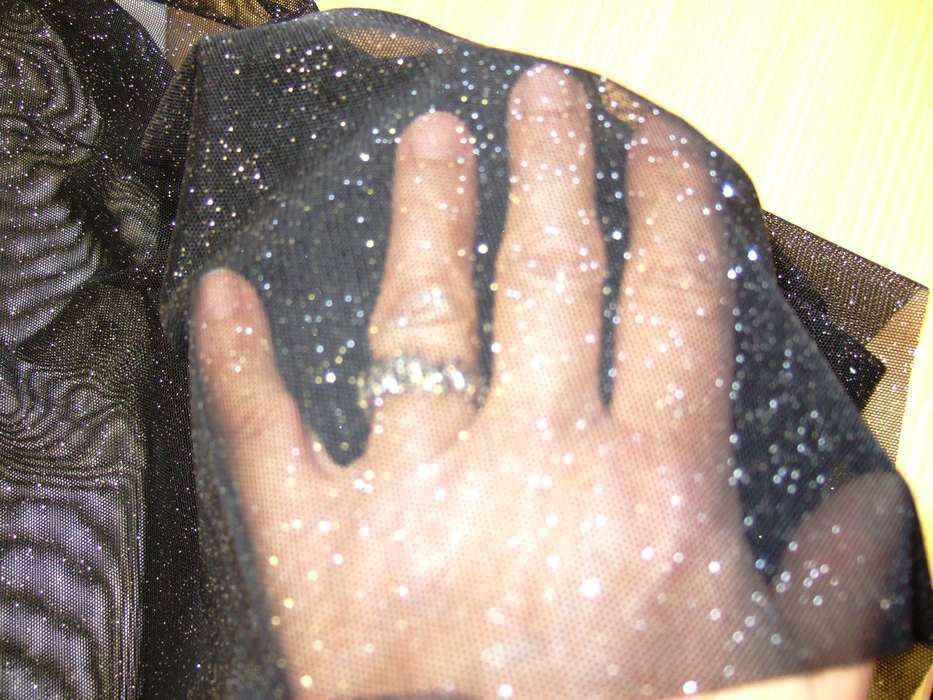 An example of a black glitter body stocking
♥ Velour
Ahh, now no discussion about figure skating dresses would be complete without this, would it? Good old, timeless velour. Obviously I'm not teaching you anything by saying this comes in a myriad of colours, but the two main distinctions one needs to be aware of is the finish: you can get smooth velvet, or crushed velvet, which takes a "crushed" appearance, as though the fabric had been placed under the force of an elephants foot, or a steam roller. Velours can also be embellished or patterned. Some examples below: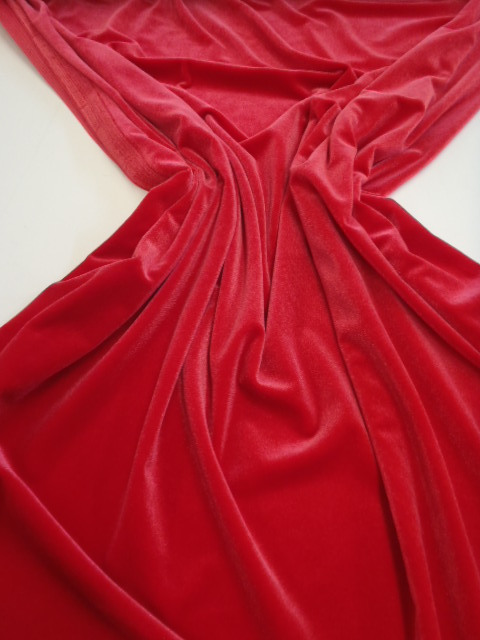 Plain flat red velour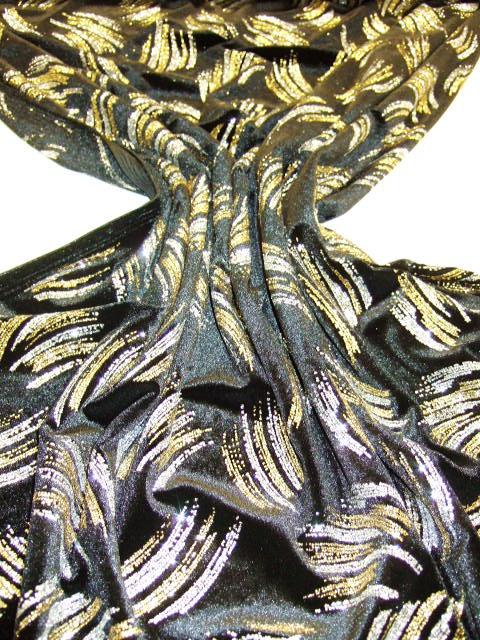 Black flat velour with gold and silver glitter embellishment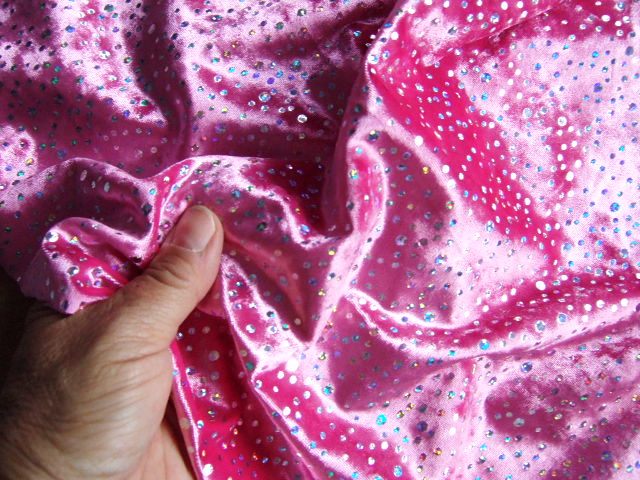 Pink velour with silver holo droplet embellishment
Now to clear something up: velour is the stretch plush material used in dance and skating costumes. It is a knit fabric which causes it to stretch. Velvet however, which is also a plush soft fabric to the touch, is woven, and does not stretch at all. Velvet is often used in upholstery where a rich decadent effect is sought, but velour is what we use in artistic sports where we need the luxurious effect of velvet with the functional stretch of a spandex material.
~ Anything Else? ~
Now I'm sure I've gone and forgotten a fabric type! Let me know if there's anything missing that you want to know more about and I will update this post in due course as best I can.
~ A Note on Elastane Content ~
The higher the elastane (stretchy stuff) content of the fabric, the stretchier it will be. This is something you can look into before you purchase your fabric, either by enquiring in your local shop or reading the composition information online prior to placing your order. I have read elsewhere people commenting that they wouldn't make a skating dress with any less than a 20-30% elastane composition, but my first practice dress attempt was made using an 8% elastane fabric and I thought it stretched just plenty. Again, if you can, get down to the local fabric store and touch fabrics for yourself to gauge what's right for you. If you can't do this, err on the side of caution and buy something with a higher elastane content, or do what I did, and get a cheap lower elastane content fabric, so that in the worst case scenario, you've lost less than $10 if it turns out to be un-useable (and even then you can use it to make up soakers to gift at Christmas!).
We have now discussed your first trip to the fabric store, what types of fabric are used in skating, how stretchy materials can be, and why it's important that you use a 4-way stretch material. Hopefully you will have gathered enough knowledge by reading this post to feel well armed for your first skating attire project. To recap:
- If this is your first project, buy cheap fabrics to save money
- If possible, visit a fabric shop to feel fabrics and understand 4-way stretch
- If this is your first project, keep it simple by using the same fabric for the entire garment
- Once you're confident, mix and match fabrics to create texture and style
If you enjoyed this post I would very much appreciate you sharing/Liking/Pinning/Tweeting/emailing/commenting it! This article has been a while in the making (since each post I write is brain-stormed weeks before I even sit down to write it), so if you got something useful out of it, I would love for you to spread the love. Thank you!
I would like to say a huge
thank you
to
FabricLand.co.uk
a British company I have bought many fabrics from, and who have graciously allowed me to use images from their website today to illustrate my post. Please note that I have received no monetary or other type of compensation from FabricLand, and that all views in this post are my own.
Until next time, get those sewing machines out my lovelies!
Gigi
XOXO
♥ Leave a comment below
♥ Like this page on Facebook for all to see: