The festive season this year was beautiful, but quite hectic due to the fact that I worked through the entire holiday (on
my start-up
which I'm launching at the same time as completing my post-graduate degree). I had many items on my "festive to-do list" including listening to some Michael Buble whilst decorating the tree, enjoying the odd cocktail or three, making some home made mince pies (those are British pastries filled with dried, brandy-soaked fruit for my readers across the Pond who might be thinking "a pie with mince? Ewww..."). One other thing I just had my heart set on? Skating at the Somerset House outdoor ice rink!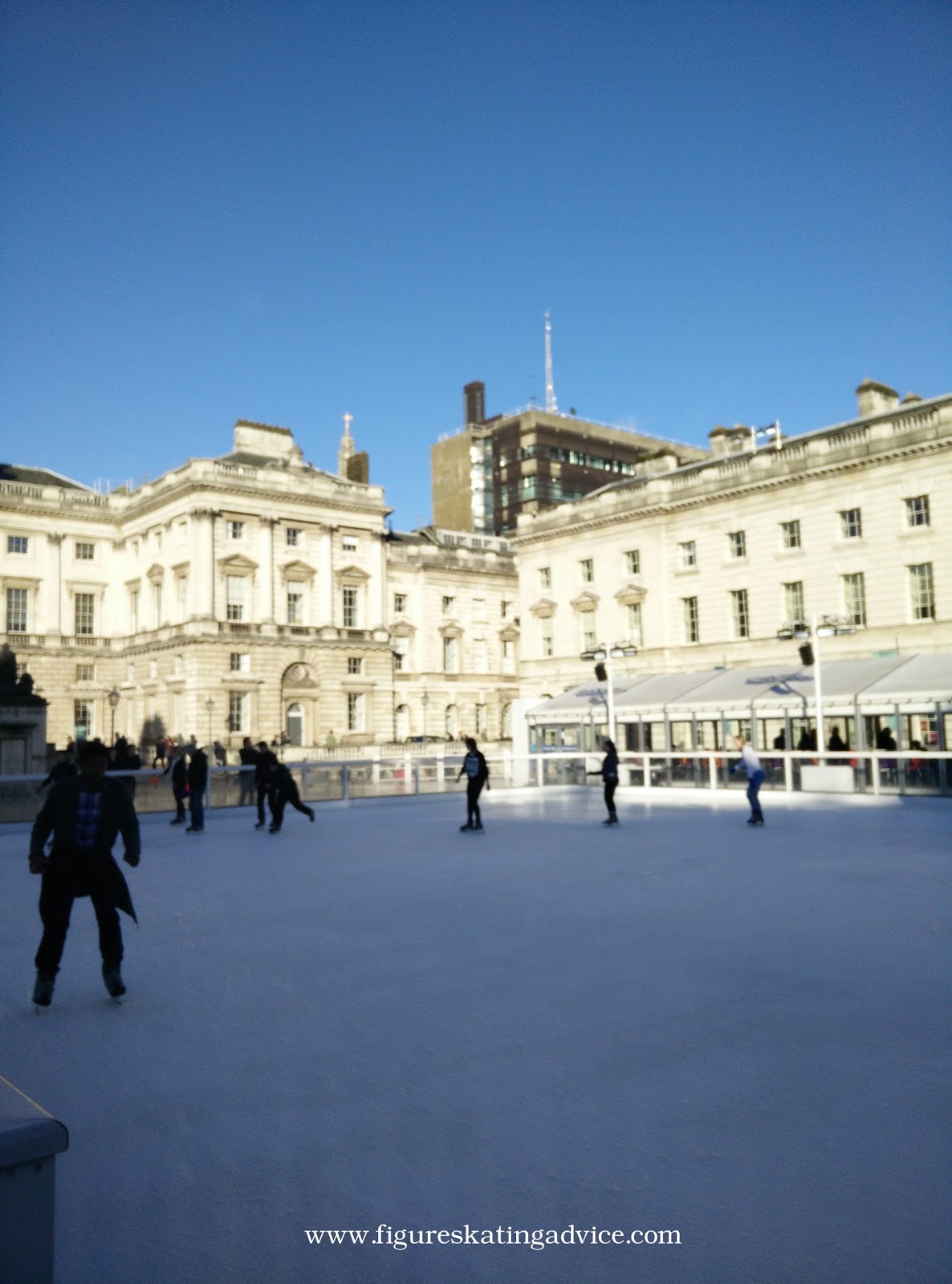 Somerset House is a major centre for culture with impressive neoclassical architecture, all set in the heart of London on the famous "Strand" (it just happens to be right next to King's College London too, the 3rd oldest university in the country, and beautiful in its own right). Here it is captured in all its glory by
ChrisO
(used here
under this Creative Commons license
):
But the holidays whizzed by, and before I knew it I was down to less than a week before returning to class! I had been itching to skate for a few months, so I bit the bullet, got online, and booked two tickets to go skating on the
Somerset House festive outdoor ice rink
! Not content to go alone, I managed to embroil my lovely friend Rebecca in my plan for outdoor ice-capades! Now for some photos: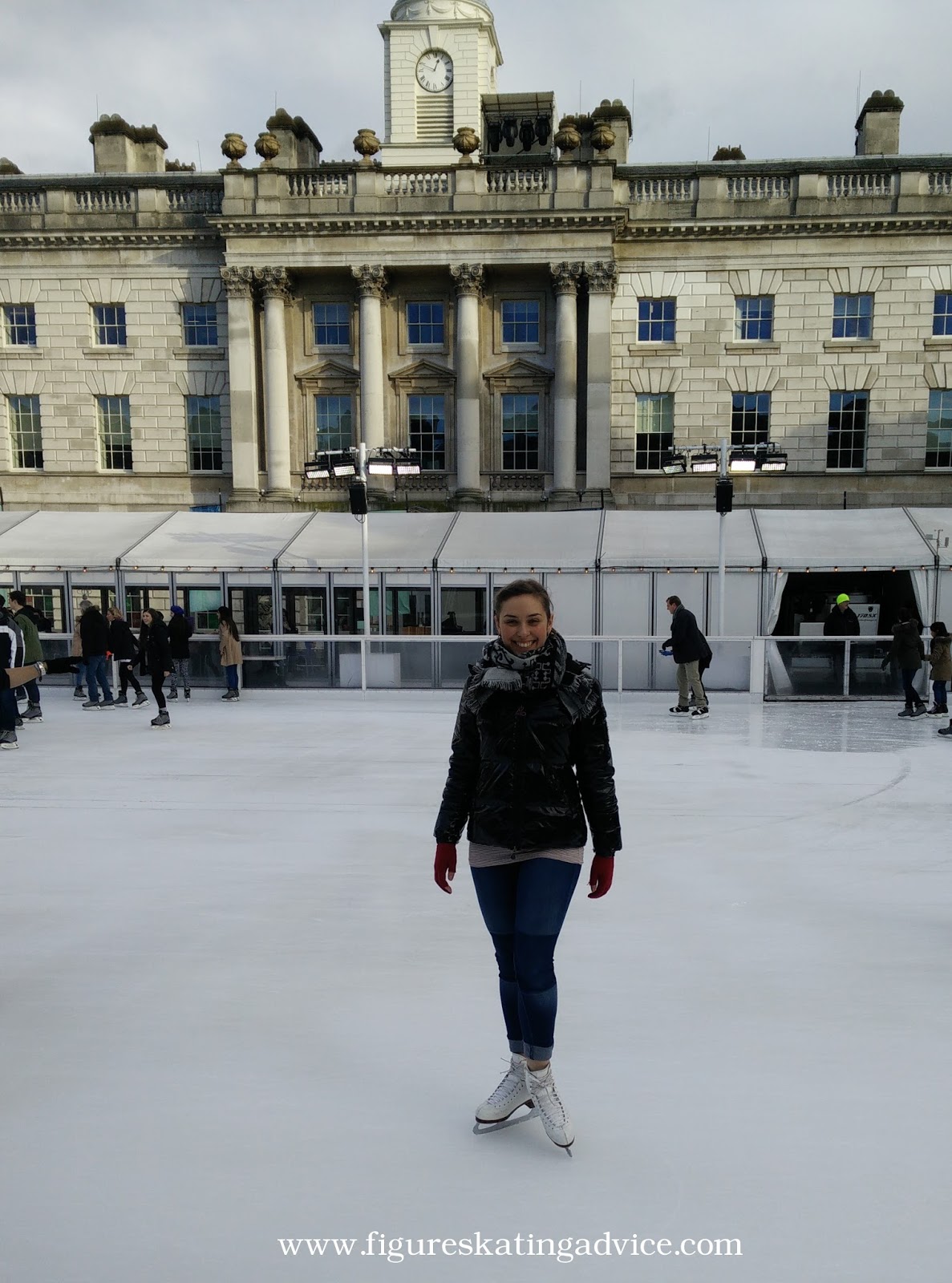 Me giving it the old "show leg" on the gorgeous ice pad!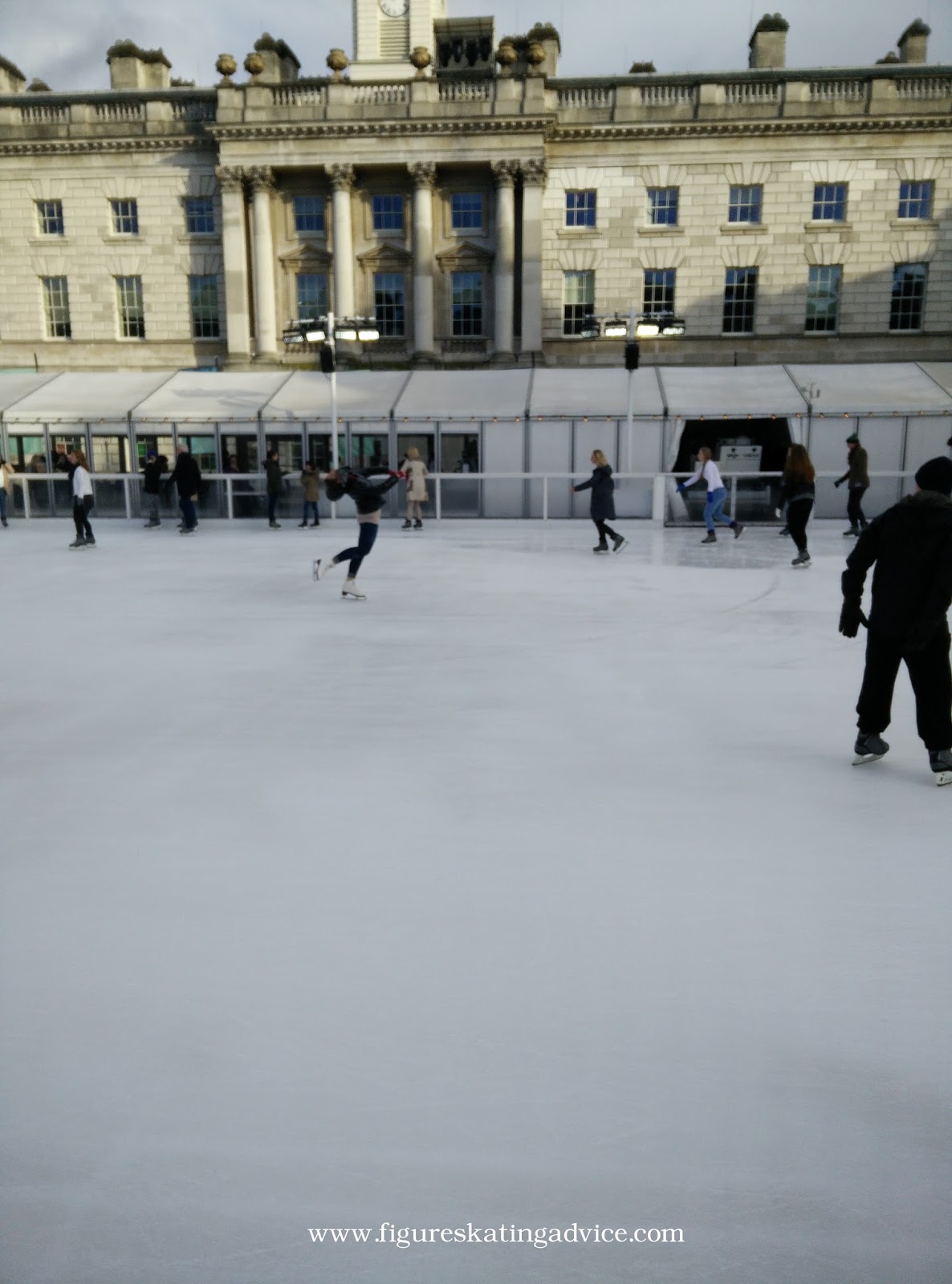 Trying a layback after too many years not bending that way any more... (back ached for a few hours after that... I must be getting old!)
The whole experience was, in a nutshell, lovely. Tickets had to be booked in advance, and I did this painlessly online via the Ticketmaster website (a UK company who sell tickets for all sorts of events and concerts through their website), although they did add a very hefty booking fee of £1.50 onto each ticket (!) which I felt was a bit excessive! Thanks to us being students, we benefited from the "student rate" of £8 each for the 1-hour session.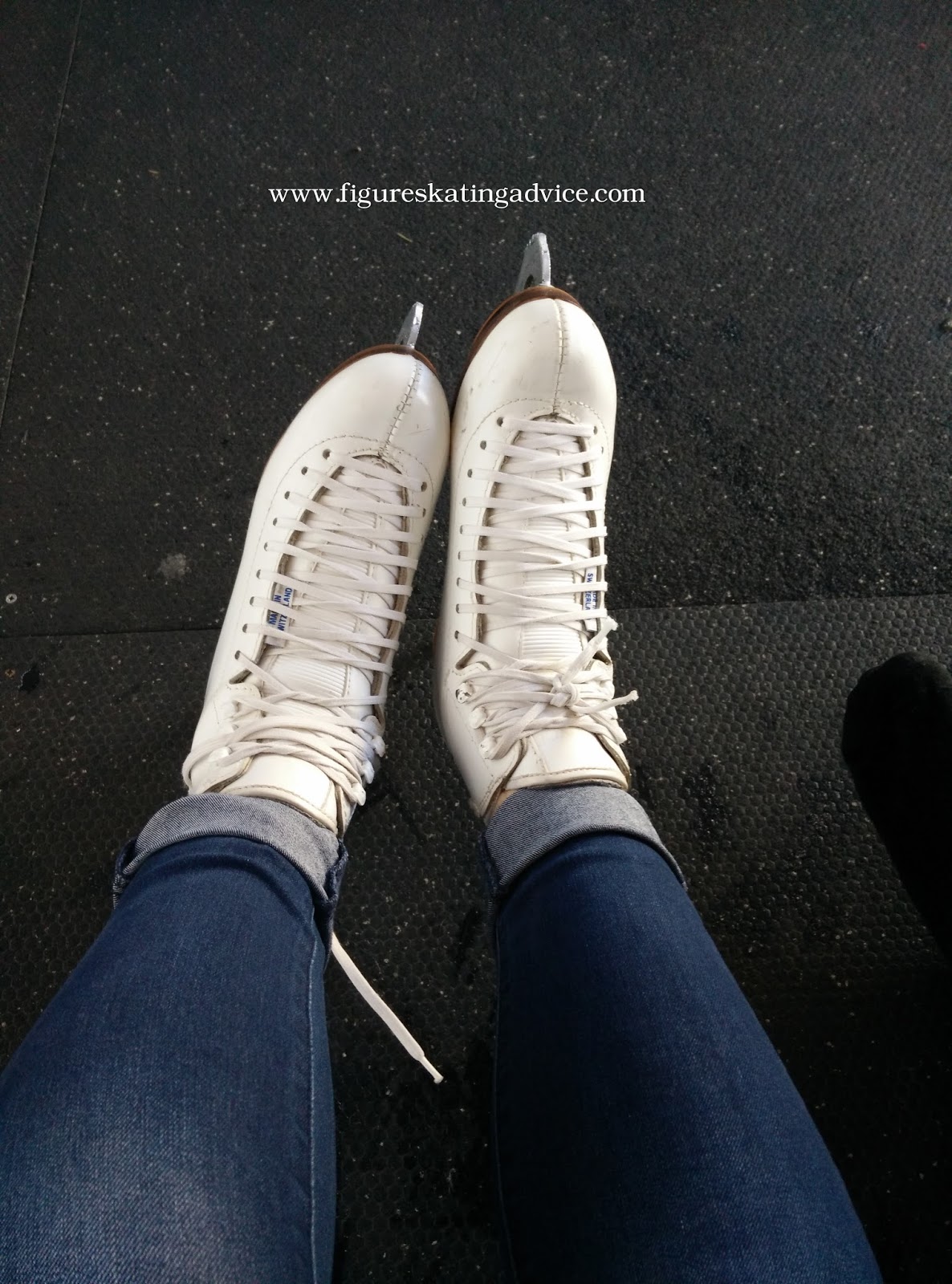 Skating in jeans was a strange sensation I hadn't done in a while!
Having spent the morning dodging copious amounts of rain, Rebecca and I were thrilled to see the sun emerge as we exited the tube and bus respectively at Somerset House. A quick pit-stop at the locker room and it was time to get into our skates. The rink has purpose-built rooms filled with nice looking, good quality benches, and the classic black rink rubber flooring.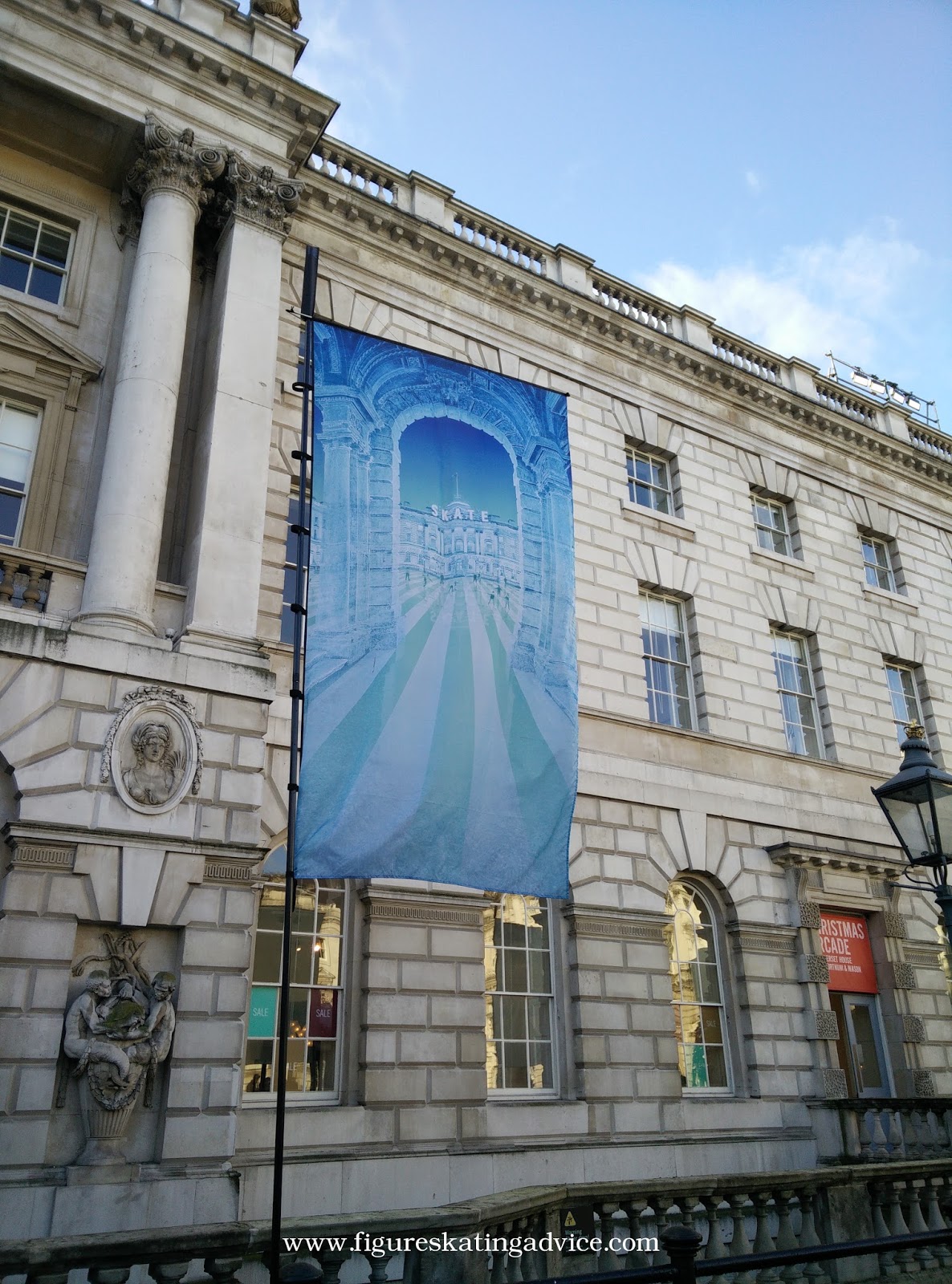 Beautiful architecture and the beautiful flags flying at Somerset House Ice Rink
Now I've been on quite a few outdoor rinks in my time. The ice is usually totally cut up (to the point of being rough even just after a resurface), or melted and soft to the point of closely resembling a swimming pool. I am thrilled to report that the SH ice pad was exceptional! The ice was smooth, hard, and fast. Not only great for a seasoned skater like myself, but also good news for beginners who have a good chance of falling at least once (and whom have been the anguish of falling into a giant puddle on this particular rink).
We spent the best part of the hour on the basics: aligning the hips over the ankles, bending in the knees, and using the free arm for balance and direction. My friend was eager that I not let her go, so we spent the session arm-in-arm while she explained the physics of the ice to me (turns out, ice melts under the blade not from the energy generated from the friction, as I had always thought, but through the compaction of the ice itself...). Yes, Rebecca is a physicist (wouldn't it be cool if she wrote a blog post here on the physics of skating? If you want to see that, you'd best leave a comment or tell me via social media, so I can show her proof that it's in demand!).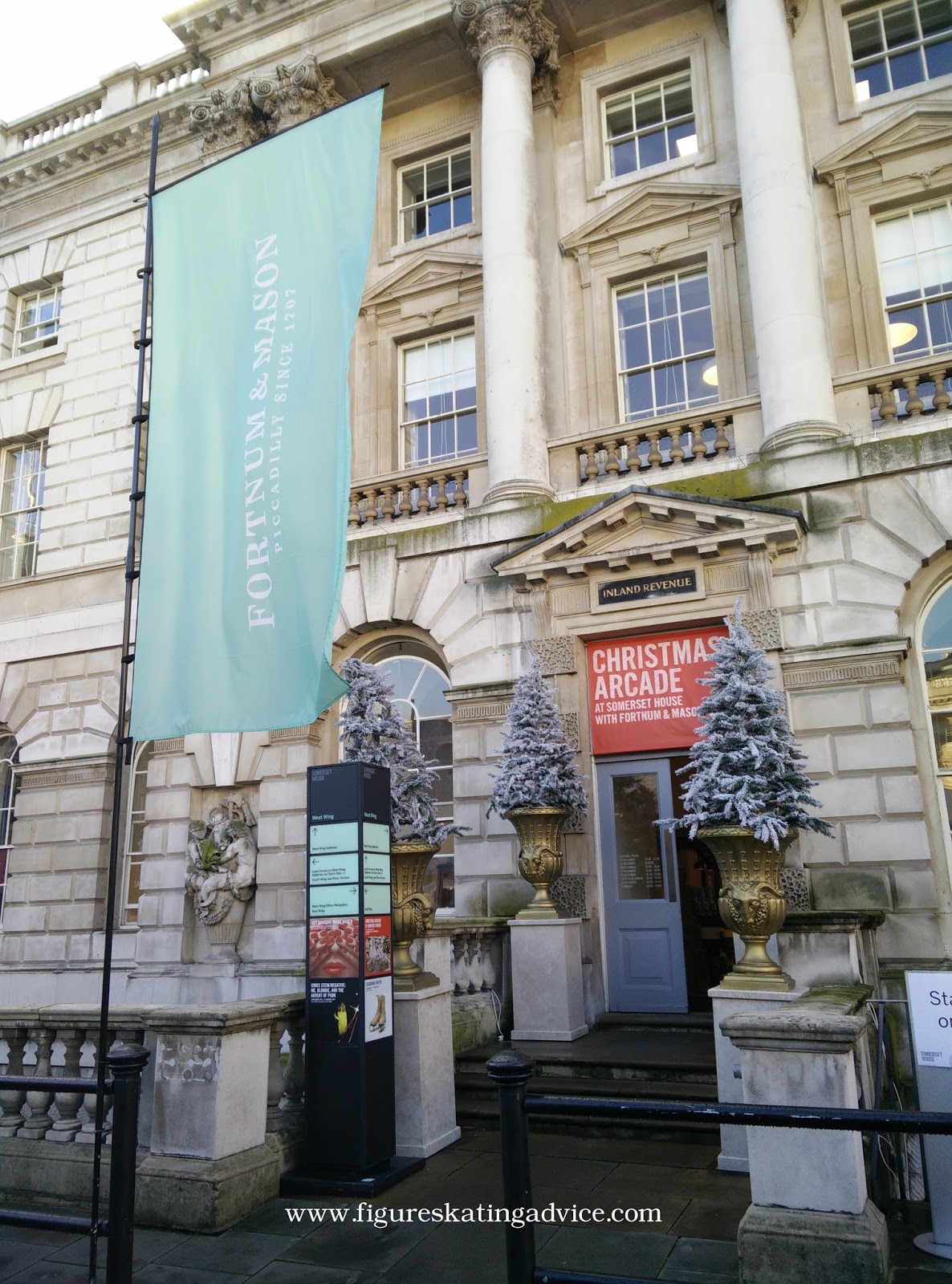 There's even a Fortnum & Mason Xmas shop for buying delicious things to munch on apres-skate
(Rebecca and I enjoying the ice)
The rink has closed for another year now, but I'll be glad to return next Christmas for another skate on their beautiful ice pad (and perhaps next time, a decadent hot chocolate afterwards?)...
Until next time, happy skating!
Gigi
XOXO
♥ Say "Hi!" in a comment!
♥ Share this fresh content with your friends: